The warmer months (September to February) provide an excellent climate to make the most of the world's largest sand island. The average temperature on K'gari (formerly Fraser Island) ranges from 20°C to 30°C making it perfect for outdoor activities. Swim in crystal-clear lakes, cruise along pristine coastline, explore subtropical rainforests, or simply relax and take in your surroundings in a back-to-nature experience.
Here are our top picks for enjoying paradise this spring and summer.
Best places to swim on K'gari (formerly Fraser Island)
1. Visit Lake McKenzie
We're sure this is on everyone's summer bucket list… one of our all-time favourites is of course, Lake McKenzie. Surrounded by pure white silica sand, here you can laze along the shore, dive in for a refreshing dip, and let your worries float away.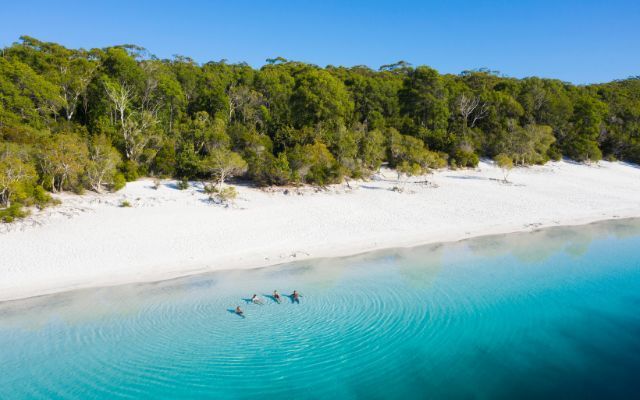 2. Glide down Eli Creek
This is the largest creek on K'gari, located along the pristine coastline of the eastern beach. With over four million litres of clear, freshwater flowing out into the ocean every hour, it's the perfect place to cool down and weave your way through the tree-lined banks. Park up on the beach and let the kids splash and play the day away in the cool, shallow waters of Eli Creek.
Tip: Bring your own inflatable tubes to make the most of the luminous freshwater stream.
3. Take a dip in Lake Wabby

Lake Wabby is K'gari's deepest lake, with rich, emerald-green water that needs to be seen to be believed. Nestled within the native bushland and coastal sand dunes of the eastern beach, this location offers an experience unlike any other. One day this unique swimming spot will be engulfed by the ever-evolving Hammerstone Sandblow, but for now, it's one of K'gari's most unique freshwater beauties.

Tip: Catfish, rainbow fish, turtles, and the rare honey blue-eye have been known to pop up along the water's edge, so keep an eye out!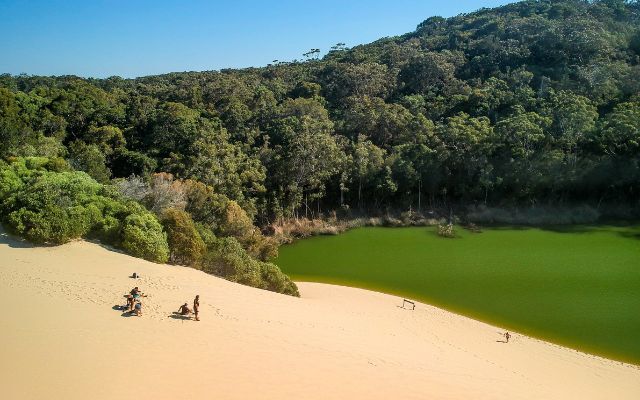 4. Visit the lesser-known Lake Birrabeen
Like Lake McKenzie, Lake Birrabeen is a perched dune lake, meaning it is formed on top of a sand dune and completely replenished by rainwater. At a quick glance, McKenzie and Birrabeen could easily be mistaken for one another, however, Lake Birrabeen is one of the lesser-known swimming holes, meaning you could have this spot all to yourself!
5. Take in the view from Champagne Pools
Nothing says 'beach holiday' like immersing yourself in this aptly named watering hole.
When you arrive at this location on the north east coast of K'gari, you won't be able to see this natural beauty formed by volcanic rock just yet. Once parked, a short boardwalk leads you to the spectacular sight of ocean waves fizzing over the pools. These waves form the iconic champagne-like bubbles and natural jacuzzi you've been longing to dive into.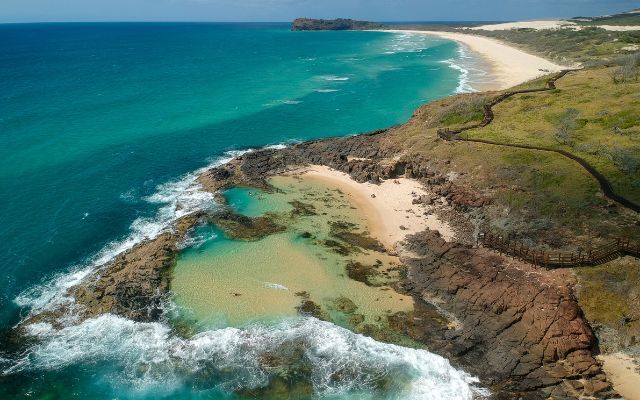 Getting there:
No 4WD? No worries! 4WDs are available for hire from Aussie Trax or take the stress out of it all and join K'gari Explorer Tours on a single or multi-day accommodated tour to visit most of these locations with experienced Aussie guides armed with essential inside knowledge.


Stay and play in paradise with K'gari + Adventure
Low on time but looking for an adventure? This one's for you! Get a taste of all the island has to offer with the most convenient package for a fun-filled getaway.
Two nights at Kingfisher Bay Resort with full access to the resort's facilities and a golden ticket to the World Heritage-listed locations K'gari is famous for on a full-day Beauty Spots Tour. Lake McKenzie, Eli Creek, The Maheno Shipwreck, and ancient rainforests are just some of the superb sights you'll see with this package. The ideal combination of relaxation and adventure, including daily buffet breakfasts and ferry transfers. Learn more.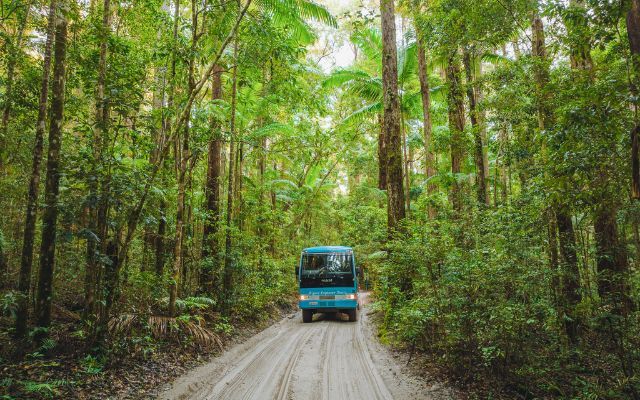 Get coastal with marine-based, ranger-guided activities
The coasts of K'gari are a remarkable habitat for many species of sea turtles, whales, dolphins, dugongs, and a range of coastal and migratory birds.
Wander along the white sands of the remote, untouched west coast of K'gari, learn about the pristine environment and take the opportunity to swim through crystal-clear waterways on this surreal eco-adventure. The crew will stop off at some spectacular spots along the way allowing ample time to truly immerse yourself and explore!
Sharing their expert knowledge, our local skipper and resort ranger will offer guided walks and talks as you experience this marine lover's dream.
With an experienced ranger, take an easy paddle from the Kingfisher Bay Resort Jetty to the stunning Dundonga Creek. Along the way you'll learn about the importance of the beautiful mangrove colony, with its eight different species, and witness local birdlife, fish, rays, turtles, dolphins, or dugong that happily share their space.
Rental stand-up paddle boards and kayaks are also available at Kingfisher Bay Resort for self-guided expeditions.
Take part in an eco-adventure across the sands of Kingfisher Bay aboard a fleet of electric, green machines. After a fun obstacle challenge to test out your skills, guests will embark on an off-road adventure, cruising at speeds of up to 10km an hour along the shores of the Great Sandy Strait. As you cruise, your ranger will share fun and interesting facts about K'gari's unique and amazing west coast ecology along the way!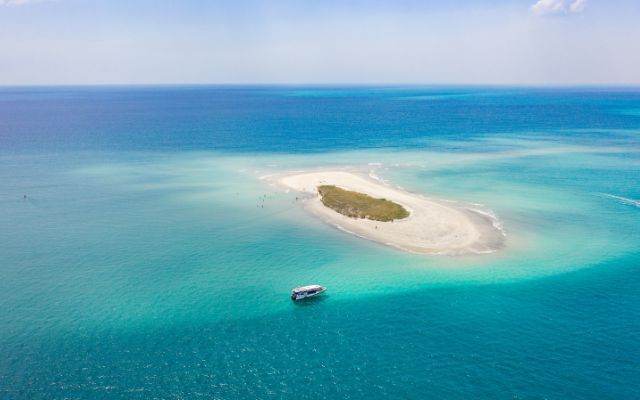 Rest and rejuvenate on K'gari (formerly Fraser Island)
For those seeking comfort, K'gari offers several options to help you embrace the wellness philosophy.
Indulge at Island Day Spa
Nestled amongst the native bushland on the western side of K'gari, Kingfisher Bay Resort's Island Day Spa offers a tranquil environment for you to rest and reflect. With an array of nourishing treatments and soothing rituals, this specially designed sanctuary has spacious treatment rooms, a relaxation area and a lifestyle boutique which subtly reflects the pristine natural beauty of K'gari.
Go on a self-guided walk
What better way to switch off and immerse yourself in the island life than by spending some time in nature. Kingfisher Bay Resort has several self-guided walks in and around the resort with an approximate duration of three hours and under. The rewards of these walks range from arriving at freshwater creeks and admiring the Great Sandy Strait from lookouts, to uncovering a WWII Commando training school and a historical jetty.
For those looking for something a bit more adventurous, the Lake McKenzie Circuit departs and returns to Kingfisher Bay Resort in a six-hour return journey (not including swim time).
Live the island life, poolside.
Warmer weather means soaking up the sun, swimming in the pool, and ordering that cocktail you've been dreaming of. Thankfully, you're spoilt for choice when it comes to poolside retreats on K'gari.
Kingfisher Bay Resort and K'gari Beach Resort are both home to incredible lagoon-style swimming pools and spas that'll have you fulfilling this summertime fantasy. What better way to relax and unwind than by splashing the day away.
Connect kids with nature
The popular Junior Eco Rangers program at Kingfisher Bay Resort helps kids disconnect from their screens and learn about the island's ecology and wildlife, in an immersive adventure led by experienced rangers. A fantastic line-up of activities is scheduled daily during the school holidays, providing education and entertainment for the kids and freedom for their parents.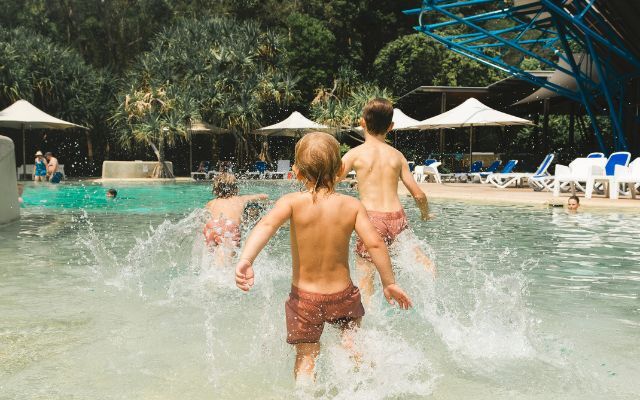 Spend a day under the canopy
K'gari is one of just two places in the world where rainforests grow in the sand, and you'll be in absolute awe as you wander through the cool temperatures found under the canopy of these centuries-old, towering trees.
Getting back to nature is good for the soul, and an afternoon surrounded by lush greenery with calming, tranquil rainforest sounds will guarantee exactly that. Located at the heart of K'gari, the island's main rainforest areas are located just a short drive inland from either Kingfisher Bay Resort or K'gari Beach Resort.
Walk along the boardwalks of Central Station and discover ancient trees, vibrant ferns, unique wildlife and Wanggoolba Creek's crystal-clear waters. From here, you can make the short (30 minute) hike through ancient times to Pile Valley, where you'll witness towering Satinay trees.
Take a picnic and upon return to Central Station, have lunch in the island's historical logging headquarters. With old forestry buildings and informative signage, history buffs will love exploring the island's heritage area that runs through the centre of the day-use area.
Savour the flavours of K'gari and stay hydrated
As an island destination, we're all about the H2O, and with our diverse range of natural waterways, we sure have a lot of it. However, should you choose to indulge in an island-inspired beverage after a long day of exploring, we've got a variety of places for you!
For an afternoon delight, settle into the beachside beanbags at Kingfisher Bay Resort's Sunset Bar and prepare for nature's ultimate show. With the western beach bathed in a golden glow, there's no better place to soak up the spectacular surrounds Take it to the next level with a Sunset Cruise and enjoy complimentary beverages onboard the Sea Explorer as the sun dips into the waters of the Great Sandy Strait.
If you're out exploring the sand tracks and are looking to stop and fuel up, K'gari Beach Resort offers the right facilities to keep you on track. With a famous island bakery, general store, and unlimited good times at the all-new pool bar, dropping in for a cold one is a must while you're out in the depths of the remote east coast of K'gari.
Kingfisher Bay Resort's beachside bistro, The Sand Bar is also nice for a casual visit. Combine the recent renovations and extensive food and beverage menu with its stunning location, a gaming arcade and two swimming pools for the kids, and you have a laidback lunch (or dinner) sorted. If that's not enough, venture into the resort's Rainforest Bar and chill out in this calming environment while enjoying the island's finest beverages.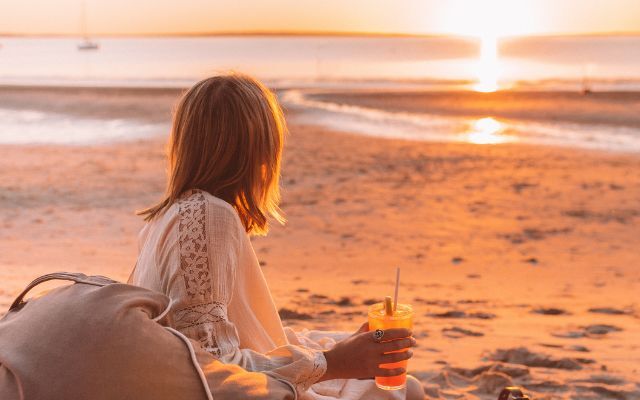 This time of year there really is no better place to escape from the 'real world' and immerse yourself in the beauty of nature. Start planning your spring/summer getaway on K'gari today.
For more information about the island's premier accommodation provider, Kingfisher Bay Resort, click here.
To find out more about K'gari Beach Resort, the ultimate 4WD-only east cost base for adventure, click here.
For more about the single and multi-day tours available with the island's leading tour operator, visit the K'gari Explorer Tours website.